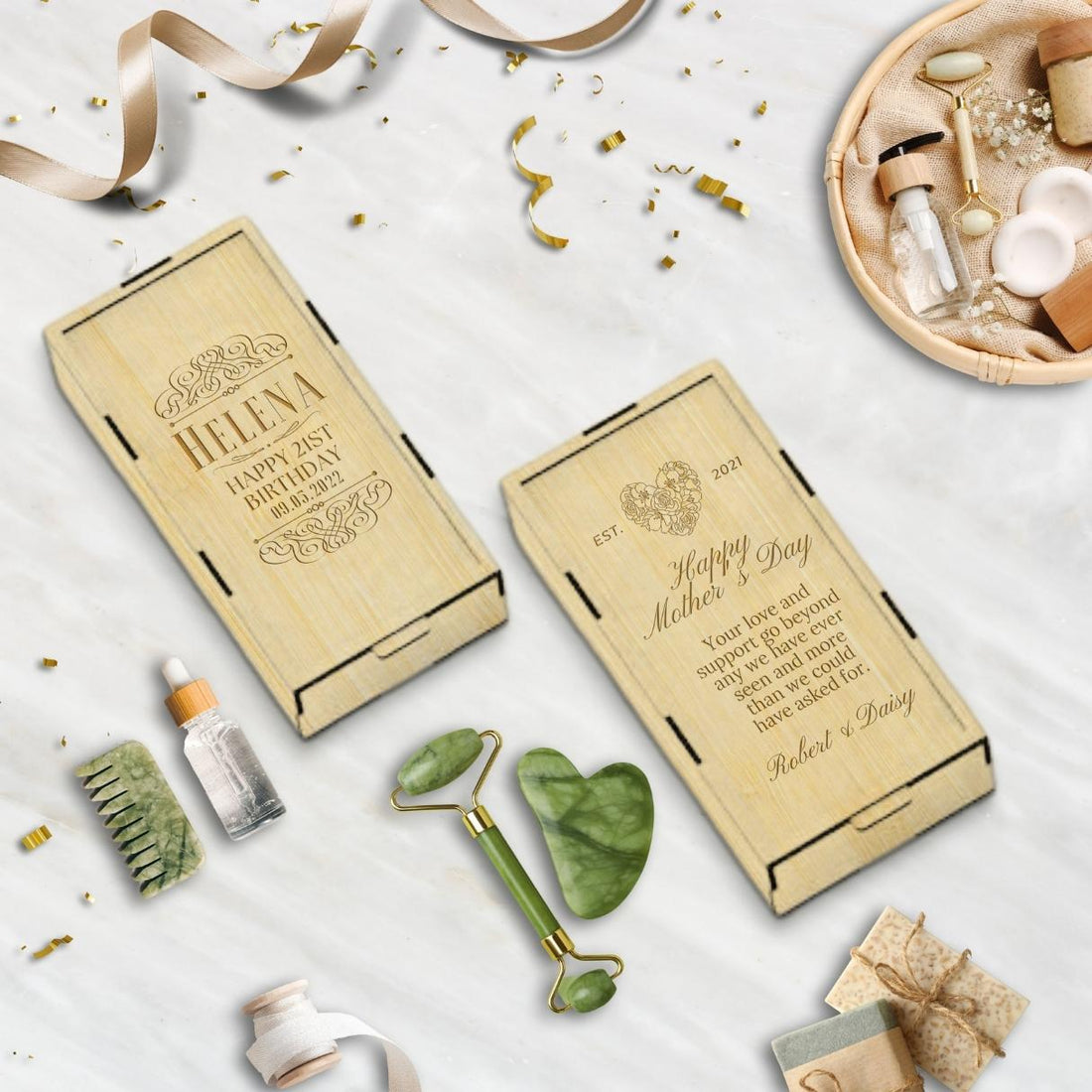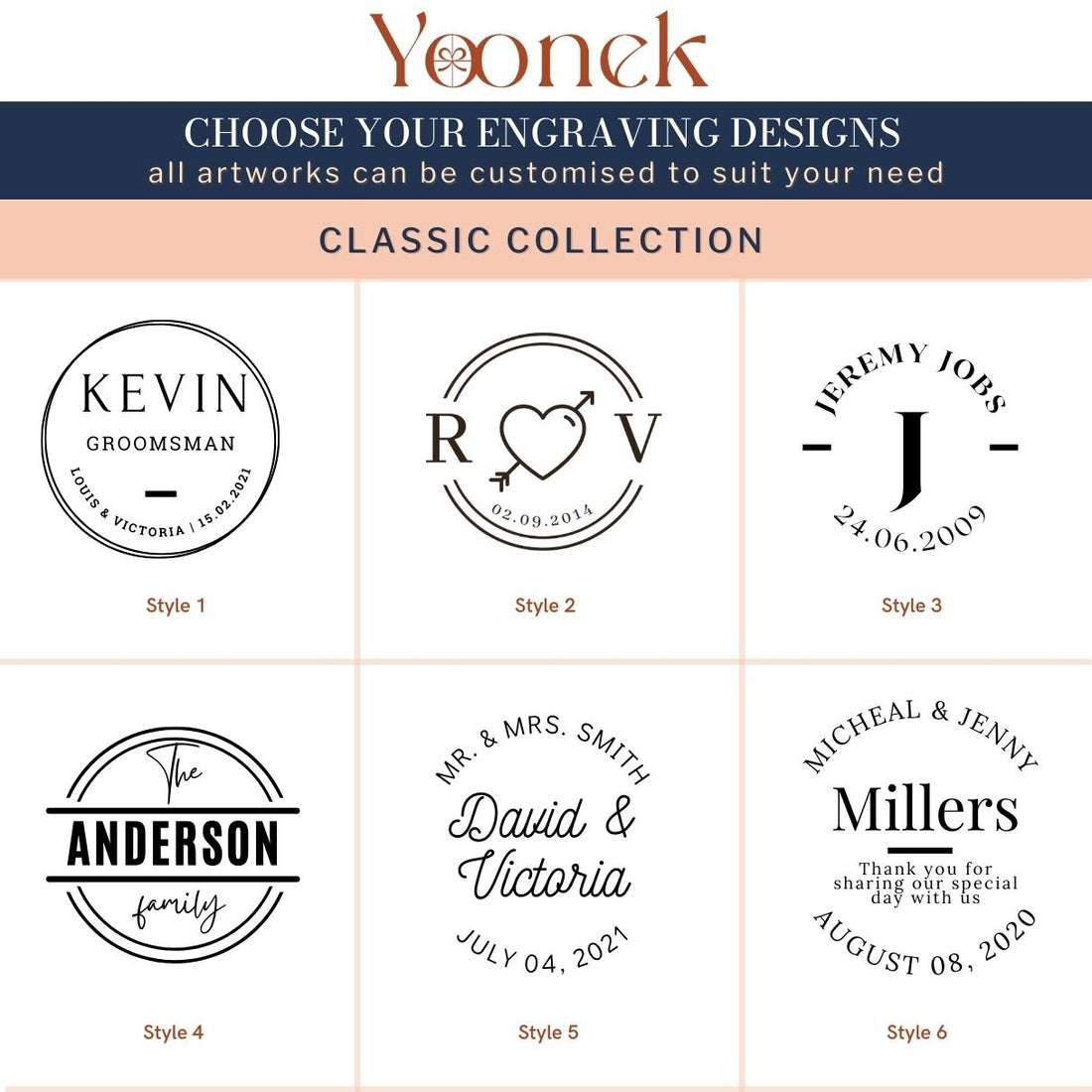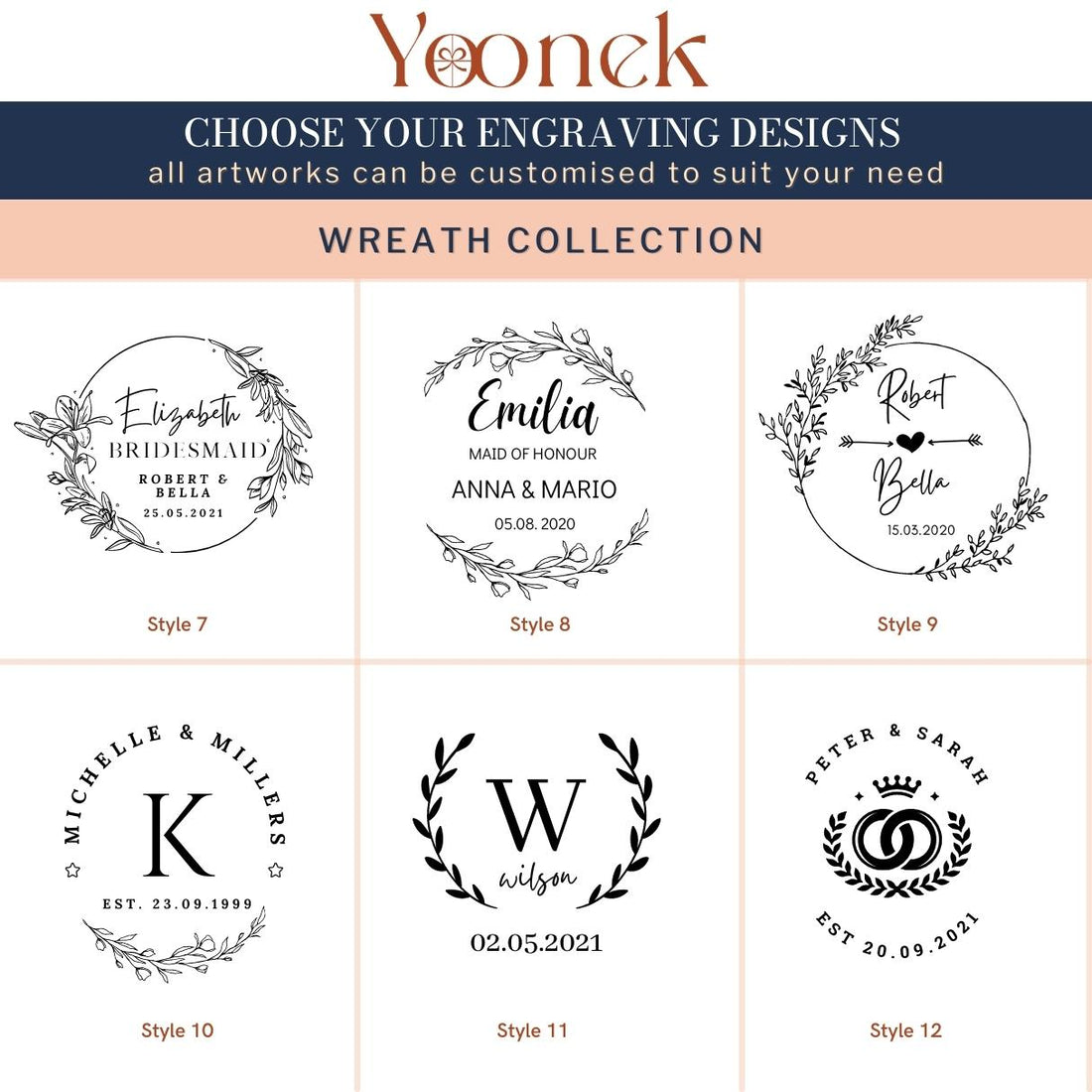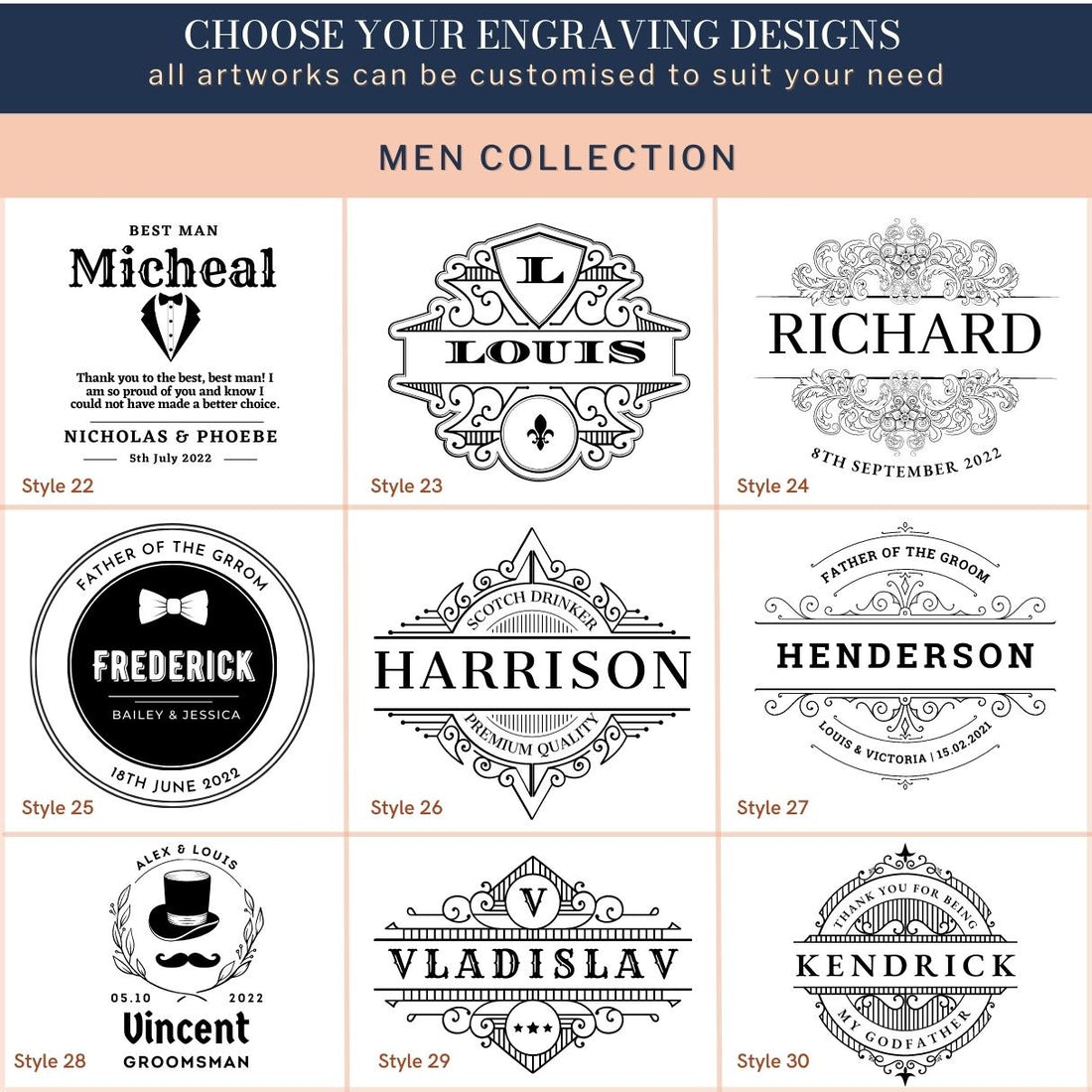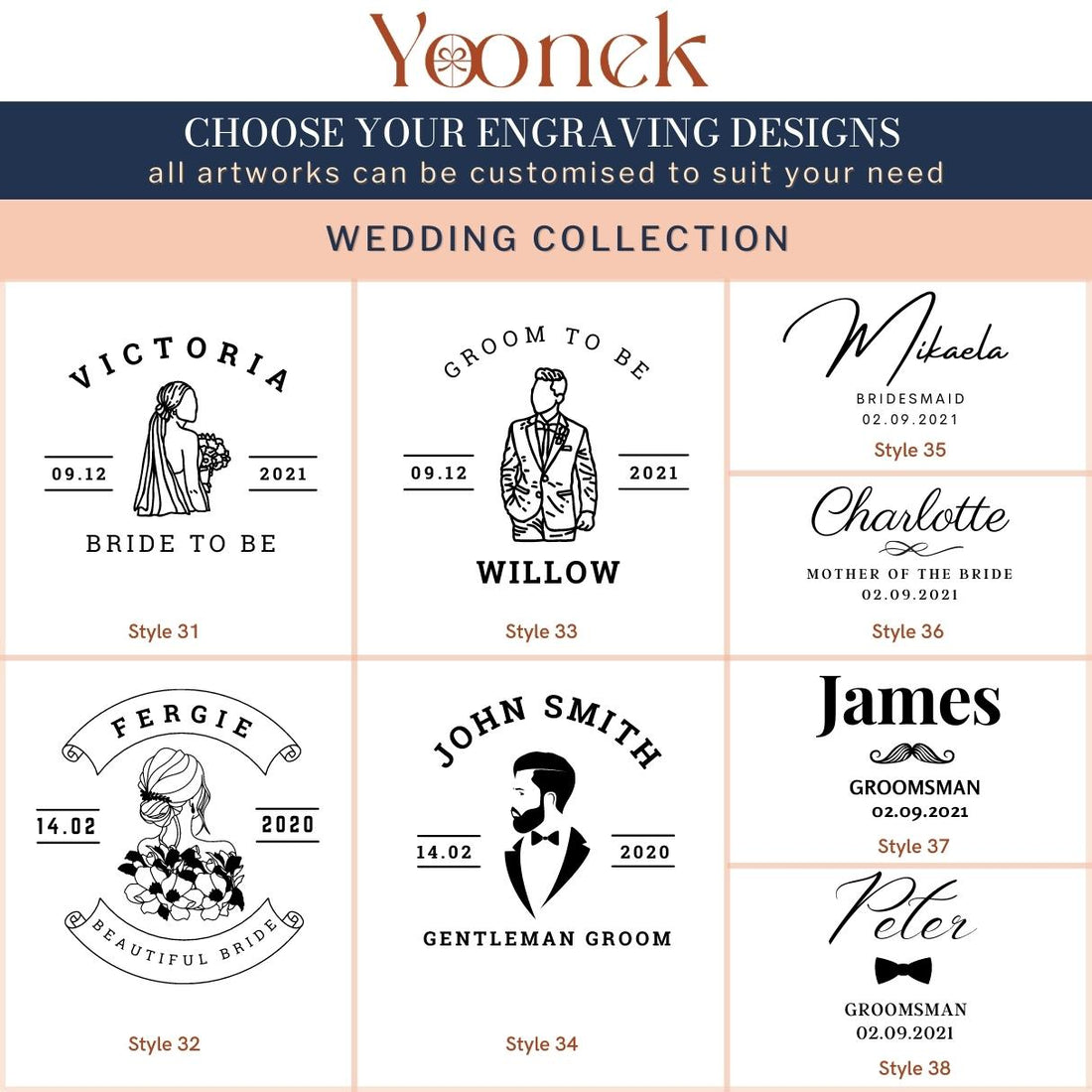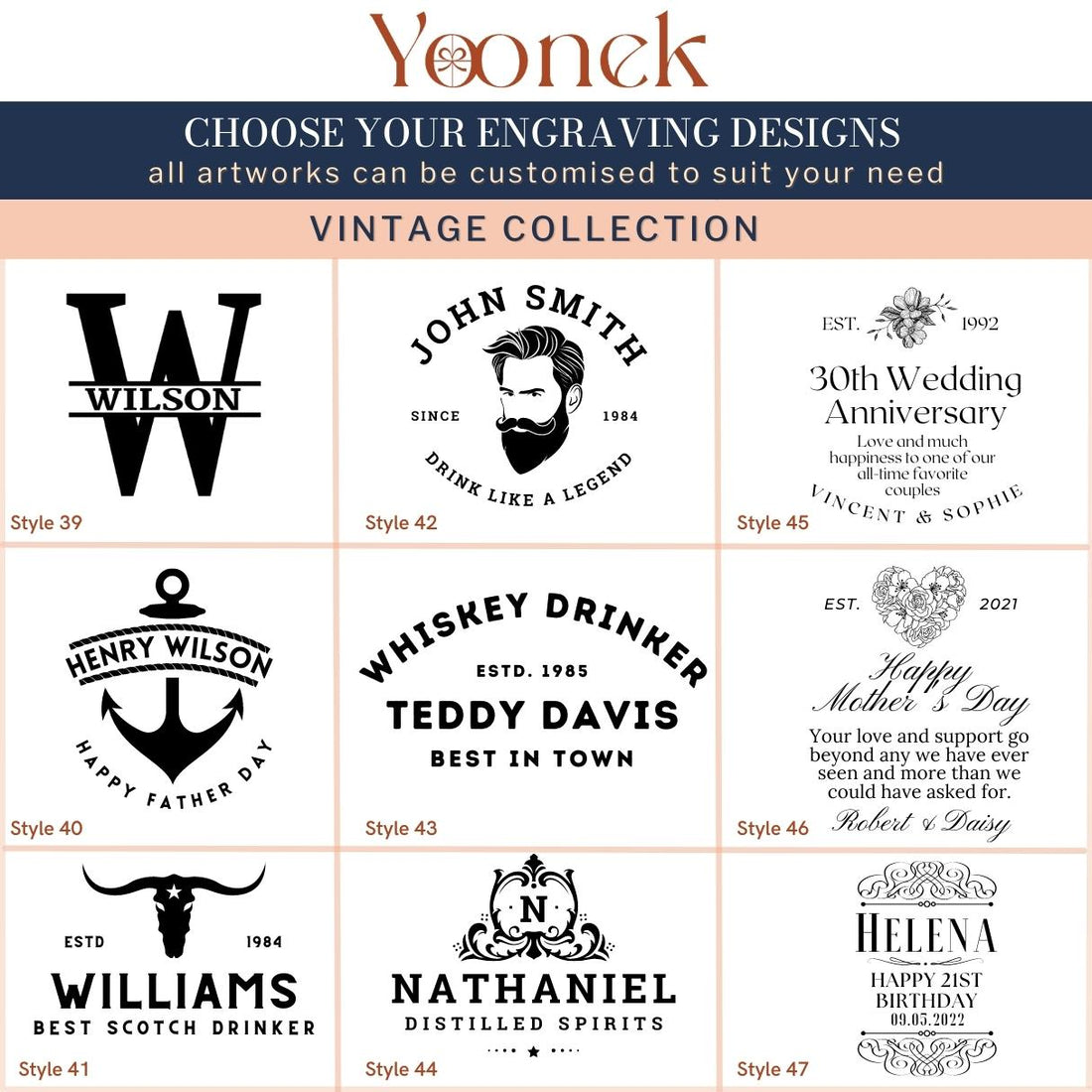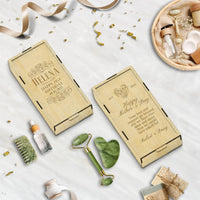 Artwork Styles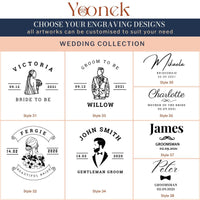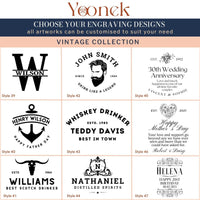 Personalised Wedding Wooden Keepsake Sliding Gift Box - Rectangle
Note: If you would like to see the artwork before manufacturing, you can request in the "Artwork Instruction" box, or email us after placing order. Otherwise, it will go straight into production with the details provided and will be dispatched ASAP. Rest assured, you will be emailed for more information or an artproof from us if we are not clear with your Artwork Instruction.
• Personalised Wedding Wooden Gift Box for Bridesmaids, Maid of Honours,  Groomsmen, Best Man, Officiant, Usher, Boyfriend, and More. Make your special moments unforgettable with our personalised engraved box. Whether you're celebrating with your wedding, bridal party, friends, or loved ones, this custom keepsake box adds a touch of elegance to your cherished memories.
✔ Versatile Usage: This exquisite box isn't just limited to weddings. It's also a perfect fit for:
Storing baby's first curl, hospital tags, and baby's first comforter, making it a cherished memory box for new parents.
Safeguarding family heirlooms, childhood mementos, and even pet memorabilia.
Holding precious jewellery and personal treasures, adding a touch of sophistication to your storage solutions.
✔ Moments Crafted to Last: From birthdays and weddings to honouring godparents, teachers, or celebrating promotions, our Wooden Book Boxes curate lasting impressions. 
It's the ultimate packaging to present heartwarming gifts for occasions such as Mother's Day, Father's Day, or to welcome a newborn into the world.
✔ Your Story, Your Way: Elevate the uniqueness of your keepsakes by personalising our Wooden Keepsake Gift Hamper Box. Engraved with initials, names, our available artwork template or even a custom logo, this bespoke wooden box encapsulates your sentiment. 
✔ A World of Possibilities: In search of something extraordinary? Dive into our extensive array of bespoke designs, each a work of art waiting to grace your keepsake box. 
With ample space, it's ideal for safeguarding jewellery, photographs, and other cherished trinkets.
✔ Crafted to Perfection: Behold our custom-designed keepsake box, meticulously crafted from painted MDF/plywood.
✔ Eco-Friendly Craftsmanship: Crafted from natural wood, our Wooden Gift Box upholds an eco-friendly ethos, contributing to a sustainable future.
✔ Craftsmanship Beyond Compare: The enduring quality of our high-grade laser cut &  engravings transcends time, delivering a permanence that surpasses vinyl stickers which tend to fade over time.
✔ Corporate Elegance: Unlock the potential of personalised Wooden Book Boxes, tailor-made for your clients as memorable closing gifts or promotional items. Engraved with client names, monograms, or your company logo, these customised boxes extend as impeccable corporate tokens.
✔ Bulk Orders Welcome: Planning a corporate event or wedding? Reach out to us for a tailored quote on bulk orders.
Material: 3mm (0.11") Laminated Plywood: Constructed of five single-ply, high quality hardwood layers or 3mm (0.11") painted MDF.
Dimension:
Available in 4 sizes: W x L x H
150x100x50mm ( 5.9" x 3.9" x 2.0" )
200x100x50mm ( 7.9" x 3.9" x 2.0" )

150x100x100mm ( 5.9" x 3.9" x 3.9" )
200x100x100mm ( 7.9" x 3.9" x 3.9" )

Technique: Laser Cut & Engraved. Personalise any design with any name, date, available template design or custom logo, your own image.
Please Note: 
- Due to the nature of wood, the colouring, markings, knots, and rustic characteristics will vary and may result in lighter and darker areas in the engraving. Each item will be unique. You can treat your item with mineral oil to keep it looking great forever!
- Please be aware that any accessories or gifts depicted inside the box are for illustrative purposes only and are not included.
1. Select your preferred wooden colour.
2. Choose your preferred size.
3. Type in your preferred style & exact order you want it engraved based on our provided Design Template Options. You can add additional instructions in ( ) brackets.
Example:
#39, W, Wilson

▸If you want to use your own logo, please attach/ send us your file once you finish . Please note to attach the highest resolution file as possible to avoid quality issues Not all files are scanned prior to manufacturing, if you're not sure, please send us an email after placing the order to confirm if the file is of an acceptable quality.

▸You can combine or pick any font, icon, style, etc between our provided designs, or choose not to include a date, title or icon for example. All artwork based on our available design is free of charge.
▸If you don't like any of our template and want to create your own bespoke artwork design, please feel free to contact us with any questions you may have, a small additional fee may apply.
PRODUCTION TIME:
1-7 Business Days
Rush Order Available: 1-3 Business Days from Approval, please contact us.
ESTIMATE DELIVERY TIME:
| | |
| --- | --- |
| Delivery to Australia | Delivery from dispatch |
| Standard Shipping | 3-5 business days* |
| Express Shipping | 1-3 business days* |
If your shipping address in Tasmania, Northern Territory, Western Australia or in a rural location, we recommend you leave approximately 7-12* business days shipping time for your standard shipping order or 5-7* business days for your express shipping order.
| | |
| --- | --- |
| International | Delivery from dispatch |
| Standard Shipping | 7-15 business days* |
| Express Shipping | 5-7 business days* |
* * There may be delivery delays outside our control. Please keep in mind these are estimates only.
Trusted By Team At